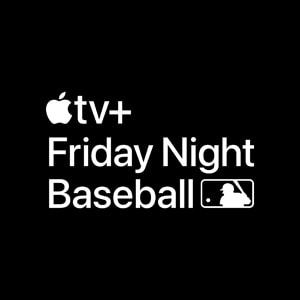 QUICK READ
07 August 2023
Apple and Major League Baseball announce September "Friday Night Baseball" schedule on Apple TV+
Apple and Major League Baseball (MLB) today announced the September 2023 "Friday Night Baseball" schedule, available to all Apple TV+ subscribers.
"Friday Night Baseball" games on Apple TV+ are called each week by Wayne Randazzo (play-by-play), Dontrelle Willis (analyst), Heidi Watney (sideline reporter), Alex Faust (play-by-play), Ryan Spilborghs (analyst), and Tricia Whitaker (sideline reporter). Brian Gorman and Dale Scott — both former MLB umpires — join to break down rules and calls. Game assignments for announcers will be shared on a weekly basis.
Lauren Gardner and Siera Santos continue to handle "Friday Night Baseball" studio show hosting duties, with former MLB players Xavier Scruggs and Matt Joyce serving as analysts alongside baseball journalist Russell Dorsey and betting analyst Claudia Bellofatto.
Apple TV+ subscribers can enjoy additional content, including the MLB Big Inning whip-around show featuring live look-ins and in-game highlights every weeknight, and a full slate of MLB-related content, including Countdown to First Pitch, MLB Daily Recap, and MLB This Week. Fans can also access additional MLB programming for free in the Apple TV app, including "Friday Night Baseball" condensed game recaps after the completion of the live broadcasts each week, classic games, highlights and interviews, and more.
Each Friday, games are available only on Apple TV+ to Apple TV+ subscribers throughout the regular season. Fans in 60 countries and regions can enjoy two marquee matchups over 25 weeks with no local broadcast restrictions. Apple TV+ is available for $6.99 per month with a seven-day free trial. For a limited time, eligible customers who purchase and activate a new Apple device can enjoy three months of Apple TV+ for free. Fans can find step-by-step instructions on how to watch "Friday Night Baseball" at
support.apple.com
.

September 2023 "Friday Night Baseball" Schedule on Apple TV+
Friday, September 1
Tampa Bay Rays at Cleveland Guardians
7 p.m. ET
Seattle Mariners at New York Mets
7 p.m. ET
Friday, September 8
St. Louis Cardinals at Cincinnati Reds
6:30 p.m. ET
San Diego Padres at Houston Astros
8 p.m. ET
Friday, September 15
Tampa Bay Rays at Baltimore Orioles
7 p.m. ET
Philadelphia Phillies at St. Louis Cardinals
8 p.m. ET
Friday, September 22
San Francisco Giants at Los Angeles Dodgers
10 p.m. ET
New York Mets at Philadelphia Phillies
7 p.m. ET