Apple previews new features coming to Apple services later this year
Users will be able to create Collaborative Playlists in Apple Music, browse offline maps and trails with Apple Maps, enjoy new experiences in Apple Podcasts and much more
Apple's world-class services are an integral part of many millions of users' everyday lives, from helping them discover new artists on Apple Music, to catching up on current events with Apple News and Apple Podcasts, and navigating and exploring the world with Apple Maps. Later this year, users worldwide will be able to discover, enjoy and accomplish even more on their favourite Apple devices with new features and enhancements arriving with
iOS 17
,
iPadOS 17
,
macOS Sonoma
,
watchOS 10
and
tvOS 17
.
"Apple's services enrich millions of users' lives every day, so we constantly strive to deliver the best experience possible," said Eddy Cue, Apple's senior vice president of Services. "Not only do we want to make services more powerful for users, we also want to make them more fun. And I think the teams have done an incredible job with the line-up of new features we're delivering this spring, from Collaborative Playlists in Apple Music, to offline maps in Apple Maps, to new experiences in Apple Podcasts."
Here are some of the most exciting new tools and experiences users can look forward to:
Listen with family and friends using Collaborative Playlists. Apple Music subscribers can collaborate on playlists with family and friends. Users can invite each other to select and edit tracks, and even add emoji reactions to specific songs.
Enjoy an even more immersive Apple Music Sing experience with Continuity Camera. With Apple Music Sing and Continuity Camera, users will be able to see themselves on screen and apply all-new camera filters as they sing along to the lyrics of their favourite songs.
Discover the artists behind favourite songs with Song Credits in Apple Music. Fans can view comprehensive data about the artists who contributed to their favourite tracks, including their roles and the instruments they played.
Contribute to what's playing in the car with SharePlay. Apple Music is bringing SharePlay to the car so that everyone can easily choose what's playing. When users are in a car and listening with Apple Music, other trusted iPhone devices will automatically suggest joining the session. Listeners can control the music from their own devices, even if they don't have an Apple Music subscription.
Stream the entire catalogue of Apple Music radio shows on Apple Podcasts. Subscribers will be able to listen to the entire catalogue of award-winning, commercial-free Apple Music radio shows in Apple Podcasts, where they can follow individual shows to automatically download and be notified of new episodes as soon as they're released.
Browse offline maps with just a tap using Apple Maps. Users can easily select an area on their device and download it with just a tap. While offline, users will be able to access turn-by-turn navigation for driving, walking, public transport and cycling; see their estimated time of arrival; find places in Maps and more.
See real-time electric vehicle charging availability. Maps users with electric vehicles will be able to see real-time charging station availability filtered by charging network, plug type and more, and users with compatible vehicles will be able to designate a preferred charging network.
Explore the great outdoors with thousands of park trails. Maps is making it easier than ever to discover thousands of trails in parks across the US with place cards that include detailed information like trail length and type, difficulty and elevation gain.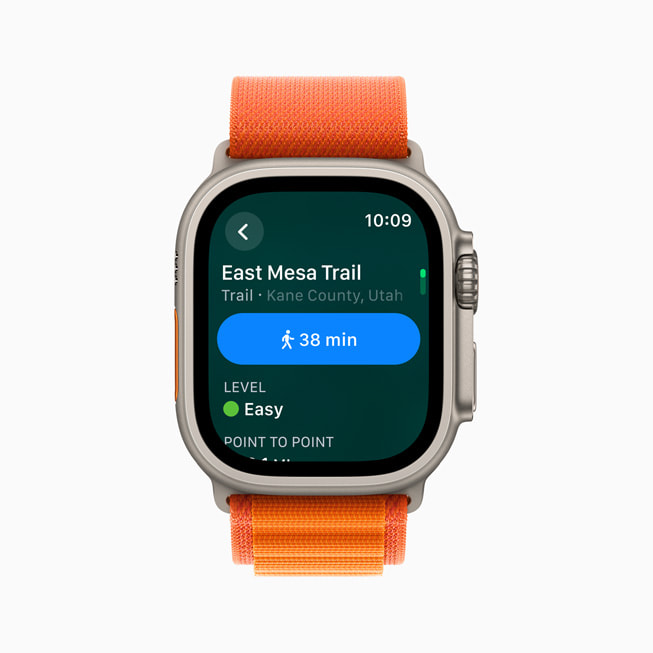 Build a workout or meditation routine with Custom Plans in Apple Fitness+. Custom Plans are a new way to receive a customised workout or meditation schedule based on day, duration, workout type and more.
Queue Fitness+ workouts and meditations with Stacks. Fitness+ is also introducing Stacks, allowing users to select multiple workouts and meditations to do back to back, so they can seamlessly move to their next activity without interruptions. Stacks can be saved to a user's library to use again in the future.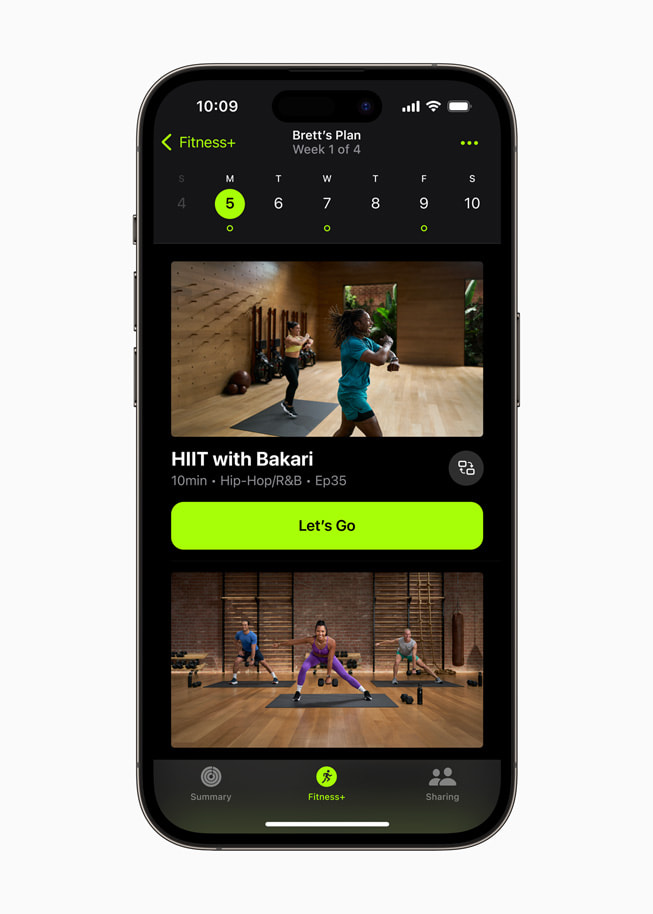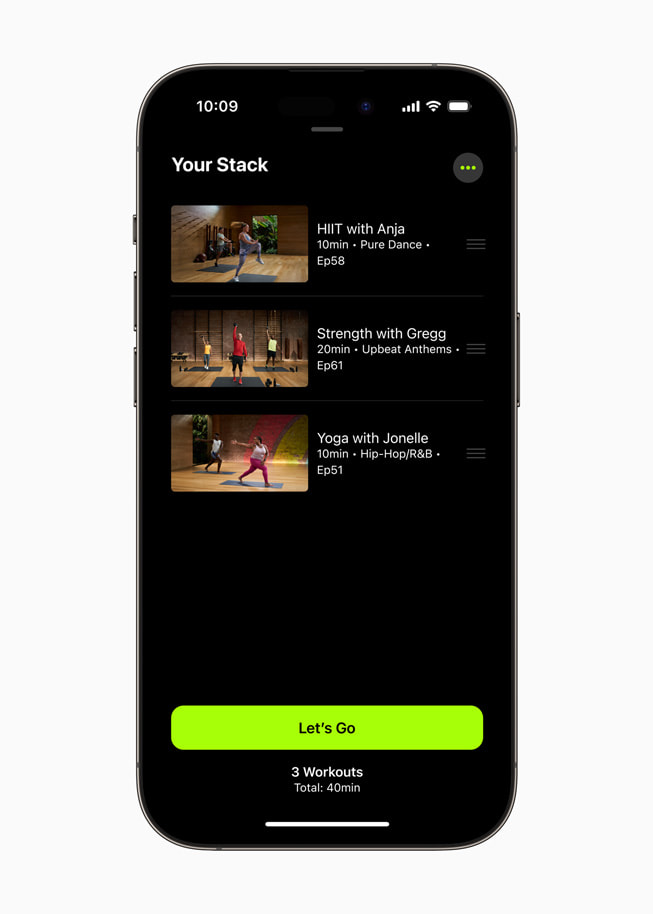 Dial in a workout or meditation with Audio Focus on Fitness+. With Audio Focus, Fitness+ subscribers can prioritise the volume of the music to stay energised or the trainers' voices so they can concentrate on their coaching.
Enjoy daily crosswords with Puzzles on Apple News. Apple News+ subscribers will be able to enjoy even more benefits, including Puzzles, which will include a daily crossword and mini-crossword in partnership with The Puzzle Society.
Listen to audio stories from Apple News+ on Apple Podcasts. Apple News+ subscribers will have the ability to listen to professionally narrated audio stories from the world's leading magazines and newspapers in Apple Podcasts.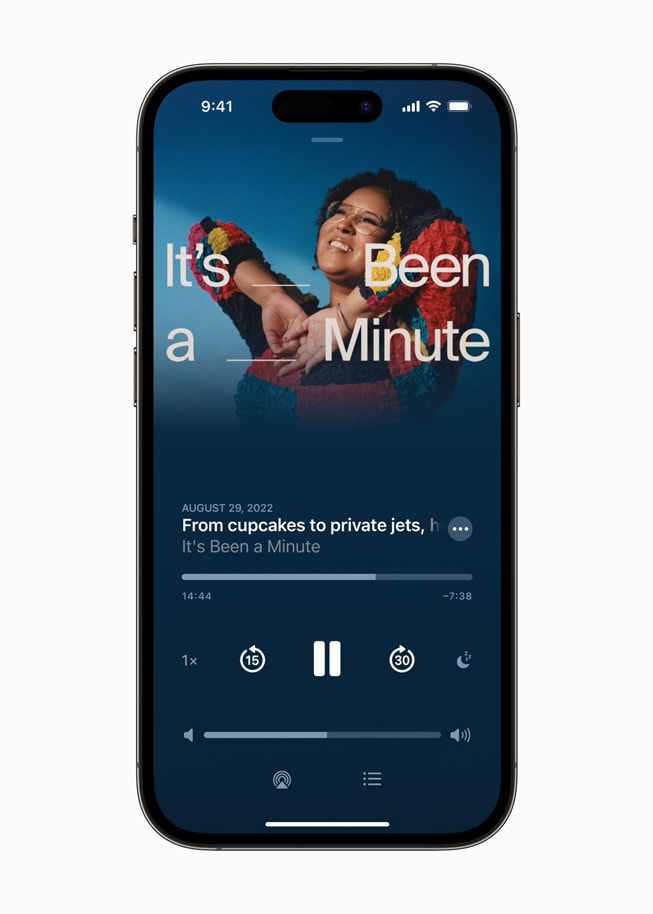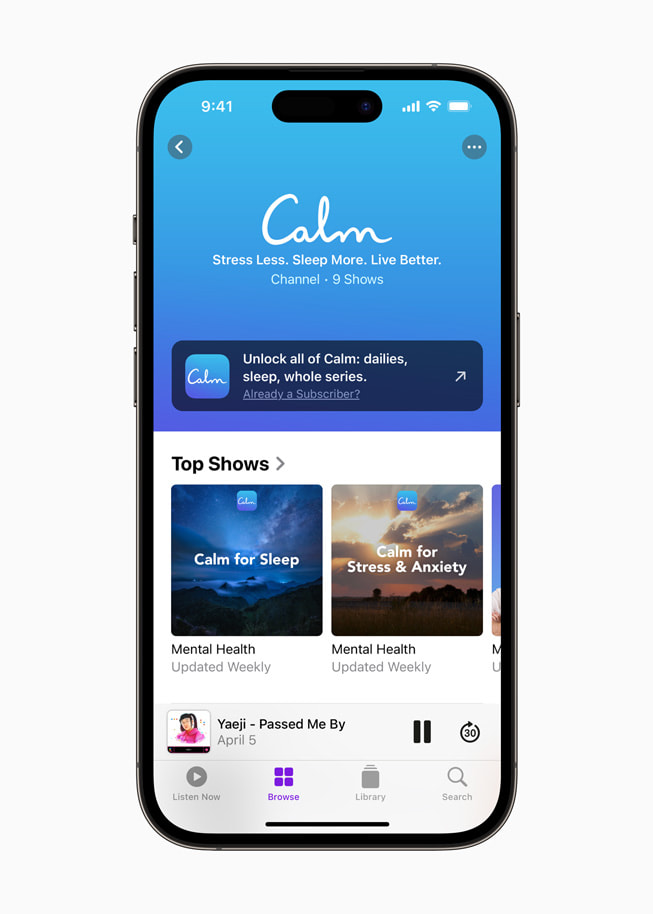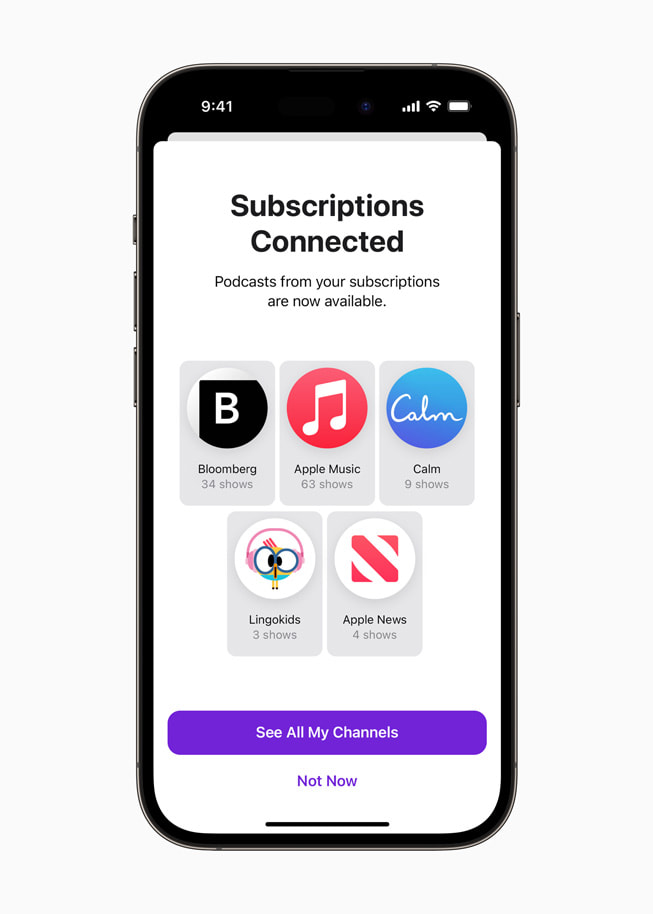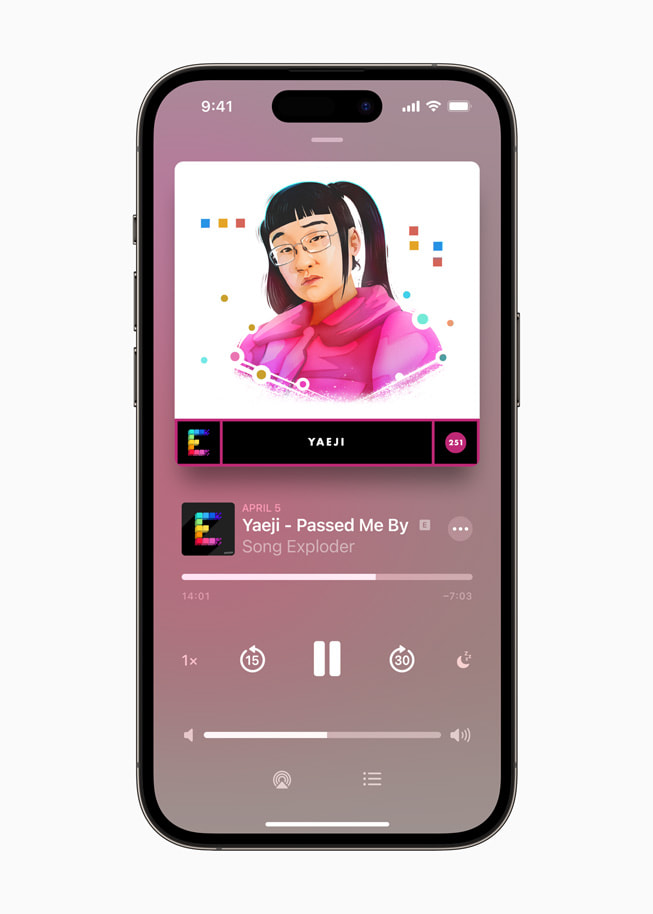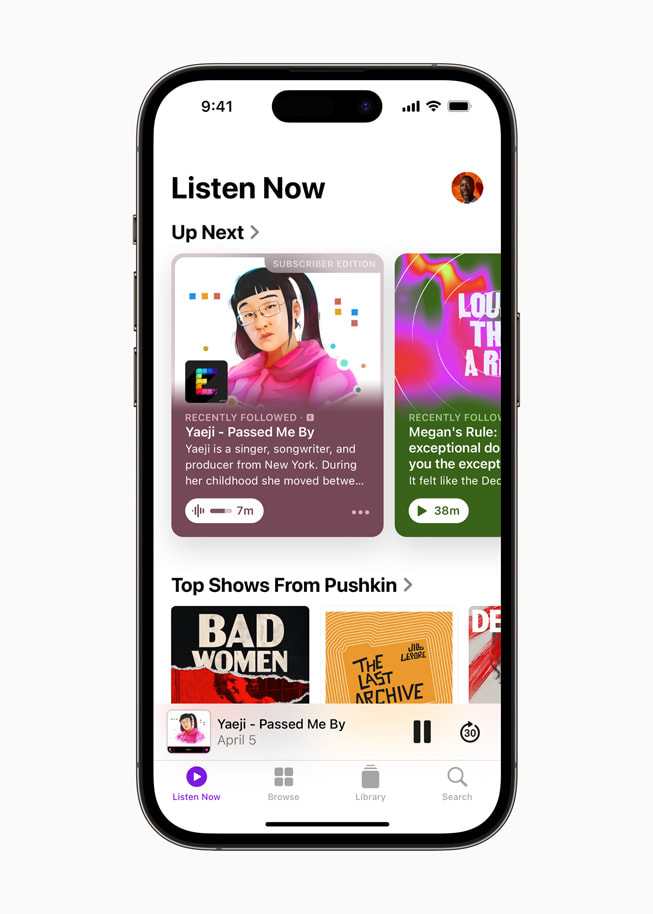 An all-new Now Playing experience comes to Apple Podcasts. Listeners will enjoy a refreshed Now Playing design, featuring a sleek, dynamic background that showcases a podcast's art and provides enhanced controls for managing the queue.
Learn more about the topic of a podcast with episode art. With support for episode art throughout Apple Podcasts, listeners will be able to explore more about an episode. It's also easier to preview, play or follow podcasts with a new design for episodes, shows and channels in Up Next.
Connect subscriptions to top apps on the App Store with Apple Podcasts. Listeners will be able to access new shows and other benefits by connecting eligible subscriptions to top apps on the App Store, including Bloomberg, Calm, The Economist, L'Équipe, Lingokids, The Times, The Wall Street Journal, The Washington Post and WELT.
Dive deeper into a favourite series on Apple Books. With Apple Books' new series pages, users can easily see all of the books available in a series, toggle between ebook and audiobook versions, purchase and read the next title in the series based on their reading, discover recommendations for related series and more.
Present an ID to businesses using iPhone and Apple Wallet. Starting later this year in the US, businesses will be able to accept IDs in Apple Wallet — no additional hardware needed. This will streamline their ability to securely check a customer's age in person for things like alcohol purchases, or to verify a customer's identity at checkout for car rentals and more. To seamlessly and securely present their ID in Wallet to an enabled business, users simply hold their iPhone or Apple Watch near the business's iPhone. Users will be shown what information is being requested and whether the receiving party will be storing the information. Users will then be asked to authenticate and consent by using Face ID or Touch ID.
Share and request locations using Find My with Messages and Maps. Users will be able to share their location — and request someone else's location — through Find My directly from the plus button in Messages with the new Location app. From here, users can also easily create a route to someone's location in Maps.
Share items using AirTag and Find My. Item sharing for AirTag and Find My network accessories will allow device owners to invite up to five other people to a sharing group. Everyone in the group will be able to see the item's location and will not receive unwanted tracking notifications. Members of the sharing group can also use Find My to get directions to the item and use Precision Finding to help pinpoint a shared AirTag's location.
Availability
A developer beta of iOS 17, iPadOS 17, macOS Sonoma, watchOS 10 and tvOS 17 is available to Apple Developer Program members at
developer.apple.com
. A public beta will be available to users next month at
beta.apple.com
. New software features will be available later this year as a free software update. Some features, applications and services may not be available in all regions or all languages.
Content and services available in select markets.

Press Contacts
Elizabeth Cave
Apple
+61 418 445 940
Nelly Assayag
Apple
+61 410 213 869