Over 100 new podcasts from top apps and services launch on Apple Podcasts
Subscribers to Apple Music, Apple News+, and participating apps like Calm and Lingokids can now connect their subscriptions to access new shows and more
Apple Podcasts is the best place for listeners to discover, enjoy, and support their favorite podcasts, featuring millions of shows covering every topic — and with iOS 17, the service becomes even more intuitive and useful. New features include a refreshed player with full-screen artwork, a streamlined queue, episode art, interactive widgets, search filters with more detailed results, StandBy, and the ability for users to connect their subscriptions to some of their favorite apps.
Starting today, subscribers to Apple Music, Apple News+, Calm, and Lingokids can access over 60 original podcasts, including more than 2,500 musically rich episodes from Apple Music Radio. New shows from top apps and services will launch every week this fall. With the ability to connect subscriptions to top apps, Apple Podcasts becomes the best way for listeners to access many forms of premium audio content — podcasts, news briefs, narrated articles, radio shows with full music, educational courses, guided meditations, sleep sounds, and much more — all in one place.
"Apple Music is home to hundreds of original shows featuring the world's top artists and tastemakers, and our listeners love them," said Rachel Newman, Apple Music's global head of editorial. "There is truly something for everyone, which is why we're excited to make it all available on Apple Podcasts, so subscribers can follow their favorites, save episodes to their library, get notified when new episodes are released, and listen offline across their devices."
"We're excited to introduce Apple News+ Narrated for our subscribers," said Lauren Kern, Apple News's editor in chief. "Now subscribers can enjoy narrated articles representing some of the best journalism from News+ publishers on Apple Podcasts as well as in Apple News."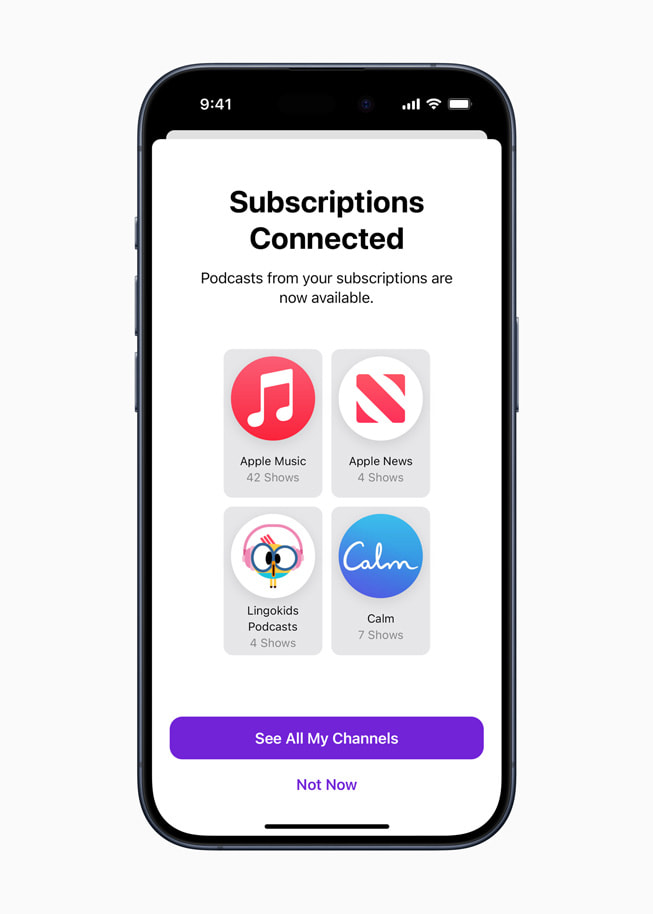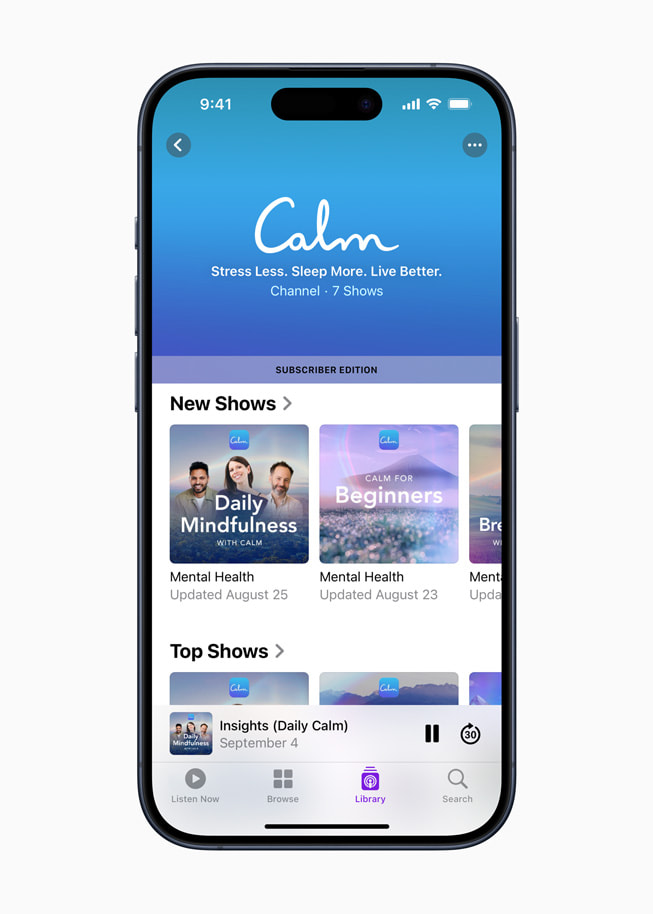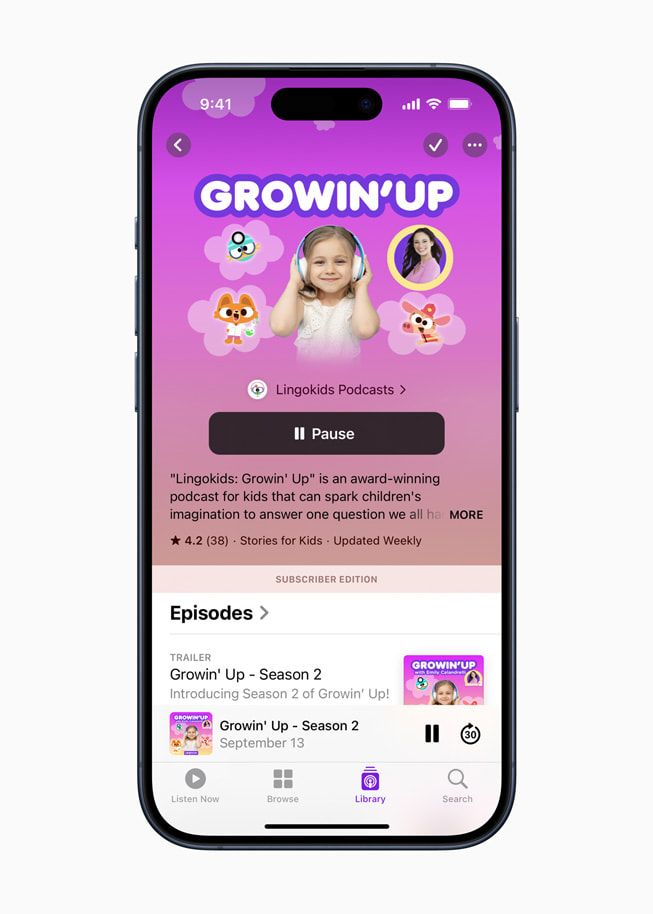 Connecting Subscriptions
Listeners with in-app subscriptions to eligible apps will have their subscriptions automatically connected the next time they open Apple Podcasts. Listeners can also connect their subscriptions manually by signing into their account from the app's channel page on Apple Podcasts. Subscribers can listen across their favorite Apple devices, including iPhone, iPad, Mac, HomePod, CarPlay, and Apple Watch with AirPods.
Discovering Shows
Once a subscription is connected, listeners can browse all of the podcasts available to them from the Library tab. On each channel page, listeners can learn more about each show, and follow any show for free to automatically download and be notified of new episodes. New episodes appear in Up Next on the Listen Now tab, where listeners can also find personalized recommendations based on their active subscriptions and anonymized listening. Listeners can explore editorially curated recommendations on Browse, and see the most popular free and subscriber shows on the
Apple Podcasts charts
.
New Shows from Top Apps
Starting next month, listeners will be able to connect their subscriptions to Bloomberg, Curio, L'Équipe, Mamamia, Sleep Cycle, The Economist, The Times, The Wall Street Journal, The Washington Post, WELT News, and Zen with Apple Podcasts.
Apple Music
Apple Music
is home to news-making, culture-moving original shows from the world's top music hosts and artists. Across three distinct global stations — Apple Music 1, Apple Music Hits, and Apple Music Country — Apple Music produces an array of award-winning programming spanning genres and formats, including anchor shows, artist-hosted shows, playlist shows, narrative shows, and specials. Apple Music's coverage of the 2024 Apple Music Halftime Show will also be available to subscribers on Apple Podcasts.
Helmed by Apple Music's top tastemakers, including Zane Lowe, Ebro Darden, and Kelleigh Bannen, anchor shows feature the hosts' unparalleled music knowledge, in-depth artist interviews, and exclusive global premieres.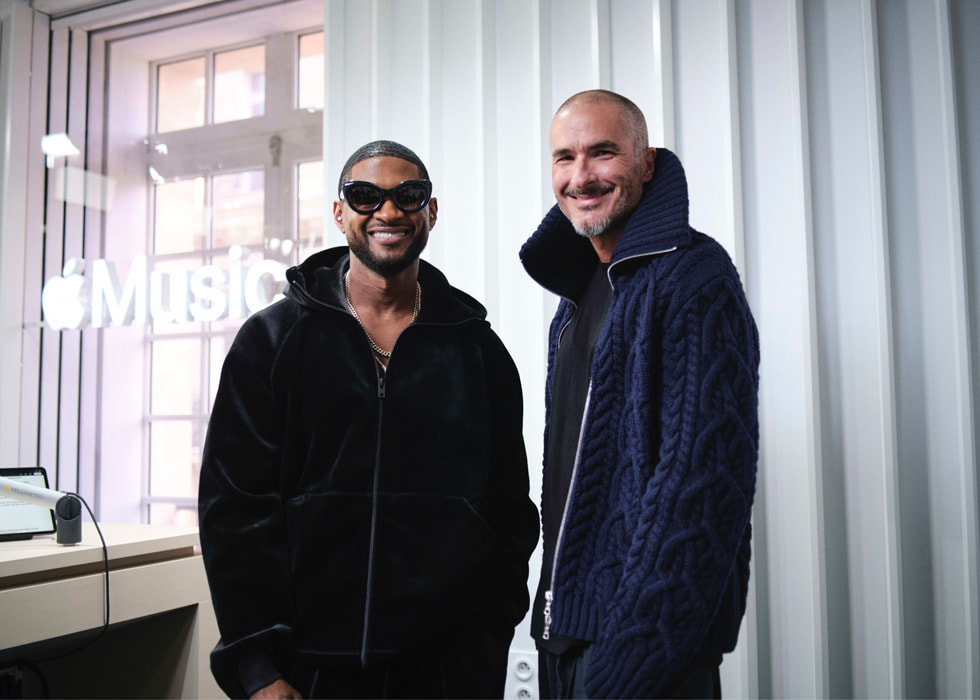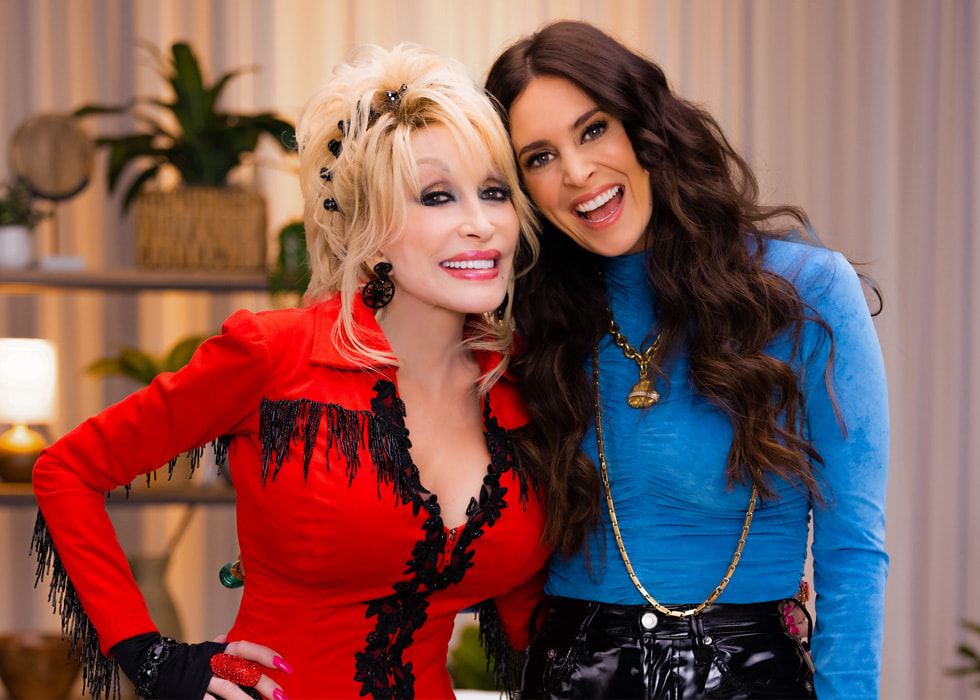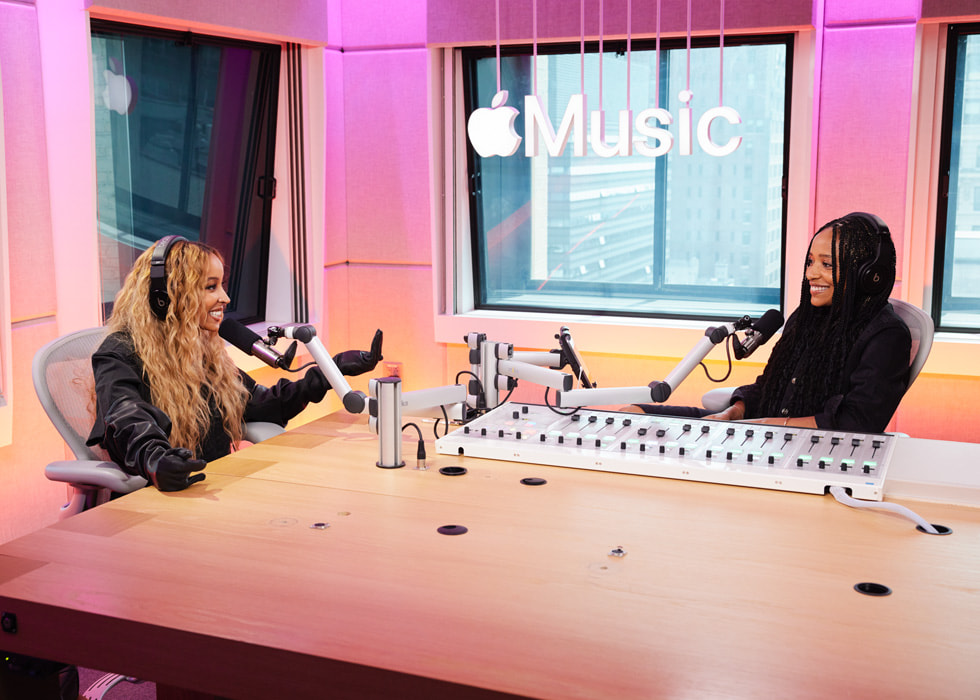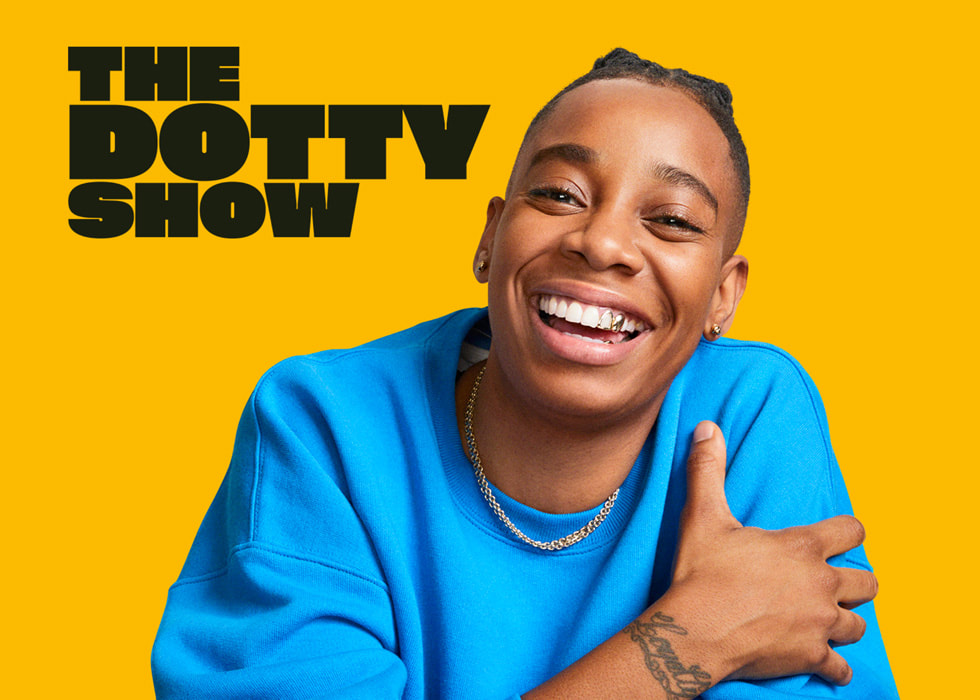 "I'm fortunate to have the opportunity to engage in honest conversations with some of the most brilliant, talented, and inspiring artists on the planet," said Lowe, Apple Music's global creative director, head of artist relations, and host of
The Zane Lowe Show
. "You will hear conversations with the likes of Alicia Keys, Billie Eilish, Blink-182, Burna Boy, Ed Sheeran, Neil Young, Paramore, Sam Smith, U2, and more on Apple Podcasts."
Apple Music boasts an eclectic lineup of artist-hosted programs, including
Angel Hour Radio
with breakout pop singer-songwriter Reneé Rapp,
Time Crisis
hosted by Vampire Weekend's thoughtful frontman Ezra Koenig, and
OTHERtone
featuring legendary artist and producer Pharrell Williams.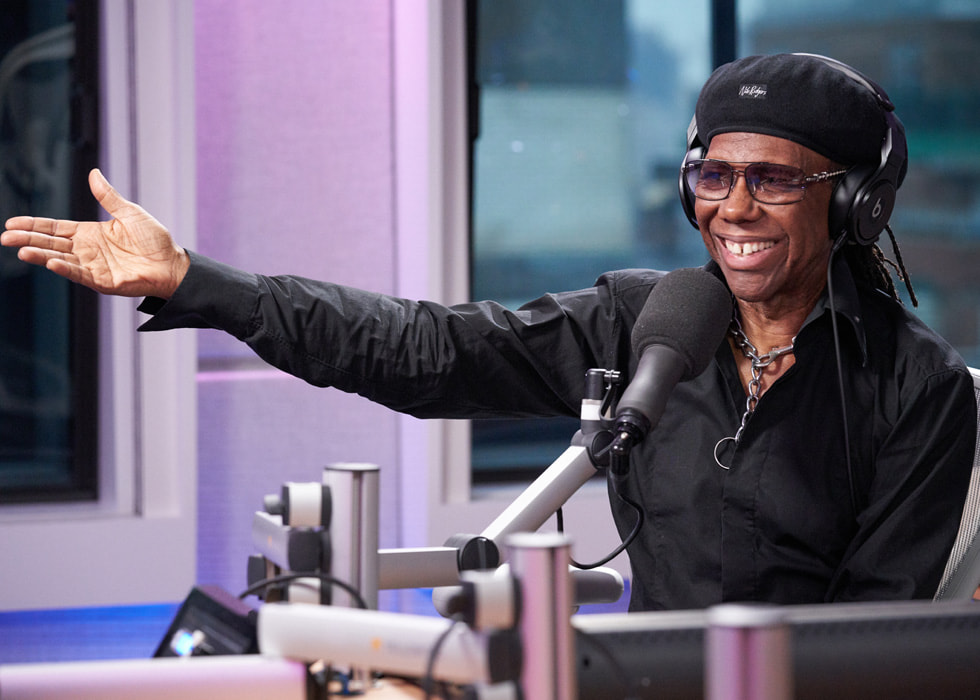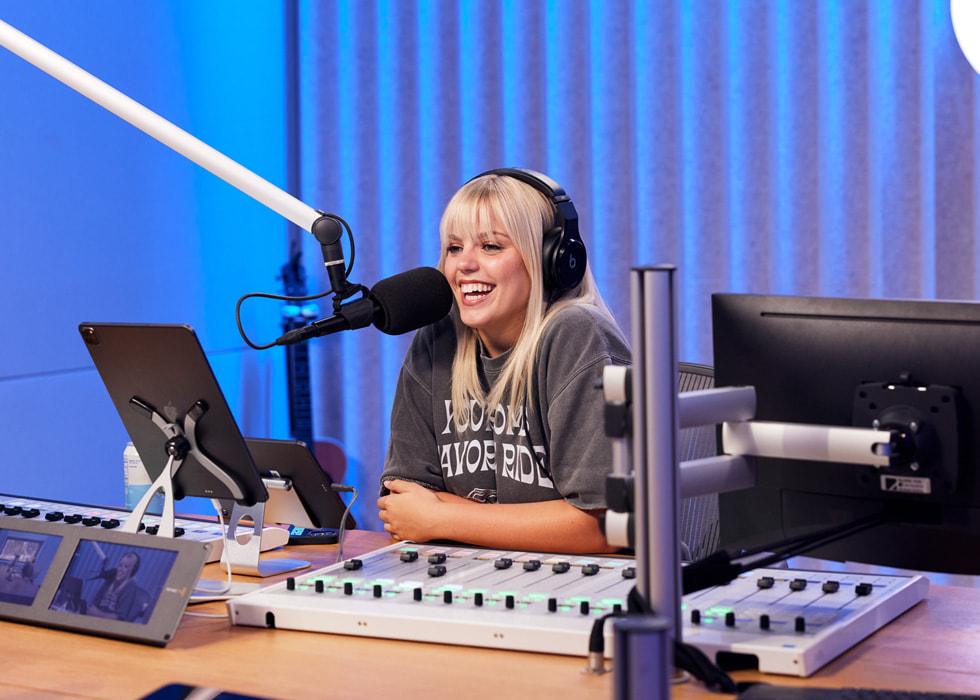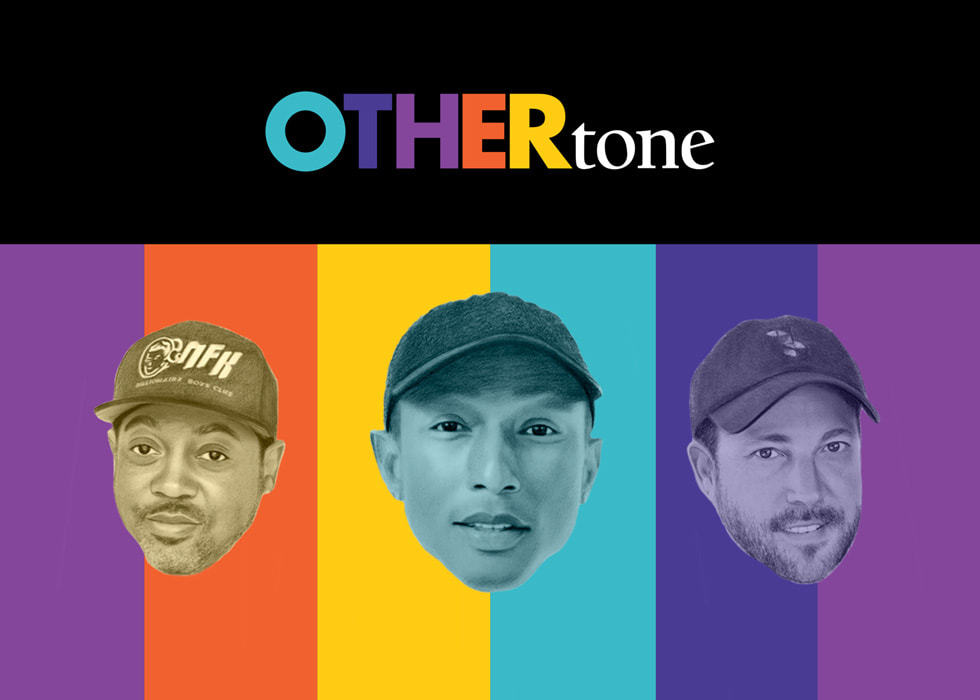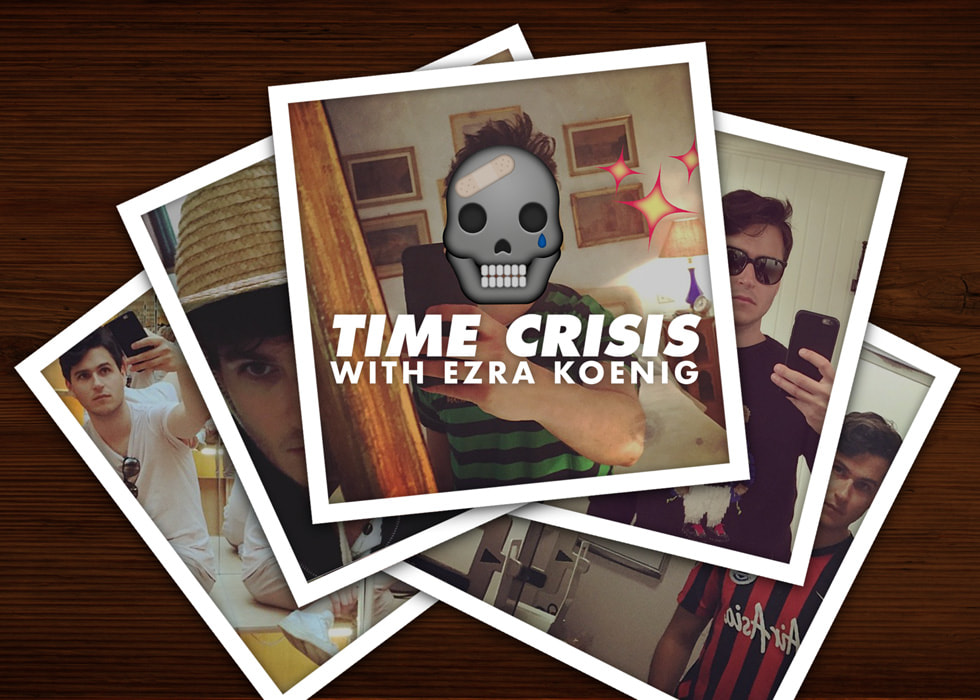 "Apple is bringing the music to podcasts," said Nile Rodgers, the Rock and Roll and Songwriters Hall of Fame inductee and host of
Deep Hidden Meaning Radio
. "On
Deep Hidden Meaning
, we dig into the stories behind the world's most popular songs with some of the most important songwriters — people like Paul McCartney, Jimmy Jam and Terry Lewis, Rod Stewart, Diane Warren, The-Dream, Björn, Ulvaeus, and so many more. The music is such a huge part of the show, which is why I'm excited that Apple Music subscribers will be able to listen to all episodes on Apple Podcasts with all of the music."
Weekly playlist shows like
Rap Life Radio
bring Apple Music's flagship genre playlists to life by spotlighting the latest must-hear songs with sharp commentary and interviews.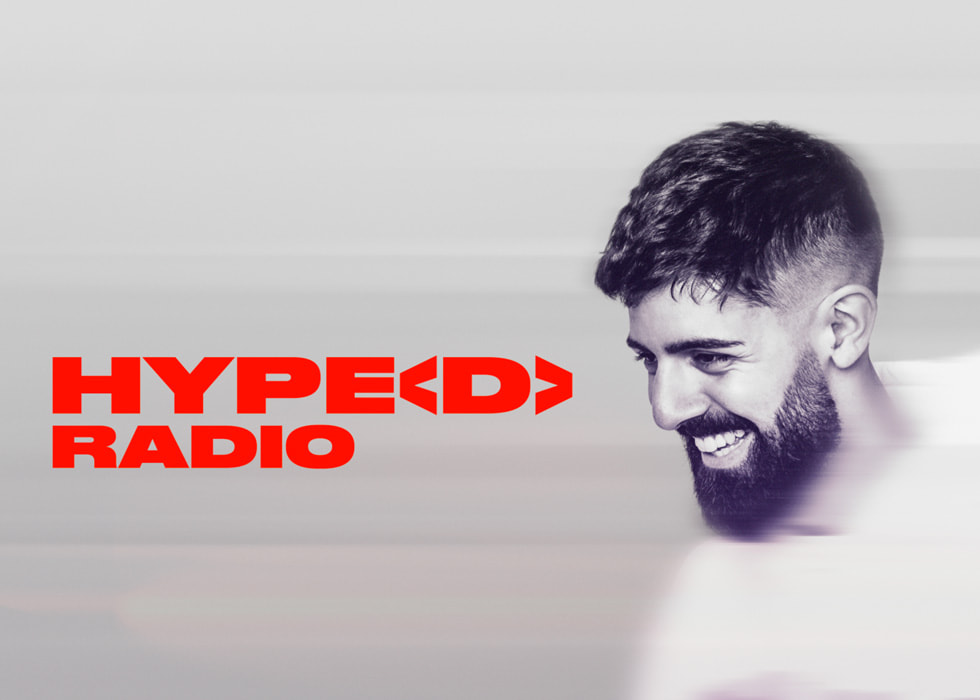 "In many ways, country music is the great love of my life, and the show is really just an expression of that," said Bannen, host of
Today's Country Radio
and
The Kelleigh Bannen Show
. "It's a daily celebration of truly great songs, the most interesting stories, and conversations with the most impactful artists."
Apple Music's narrative shows and specials — including
Hip-Hop DNA
and
Essentials Radio
— offer subscribers lovingly crafted audio stories, performances, mixtapes, and more.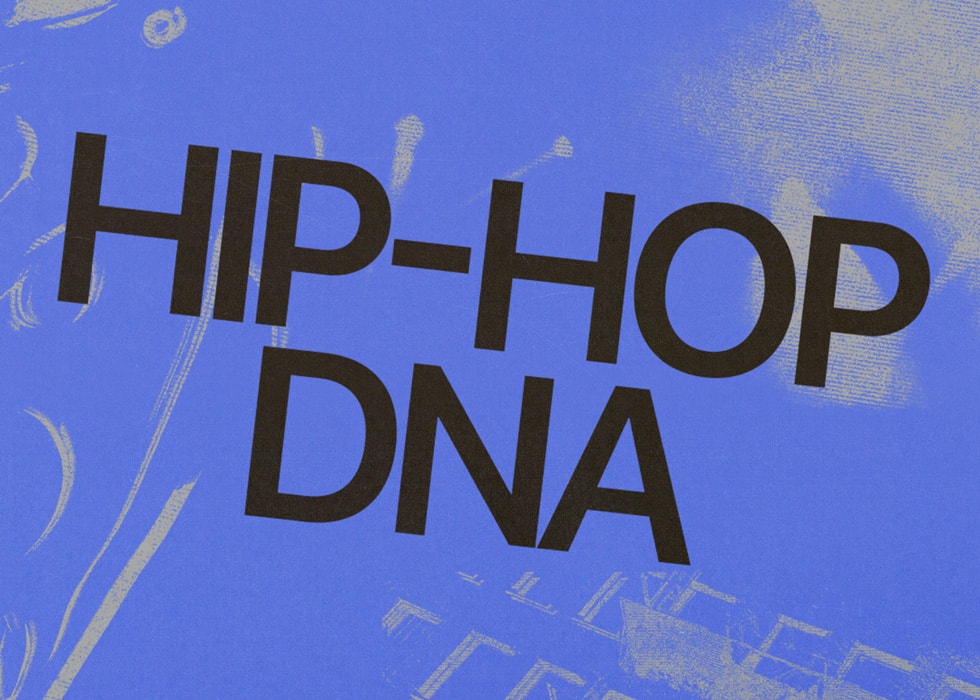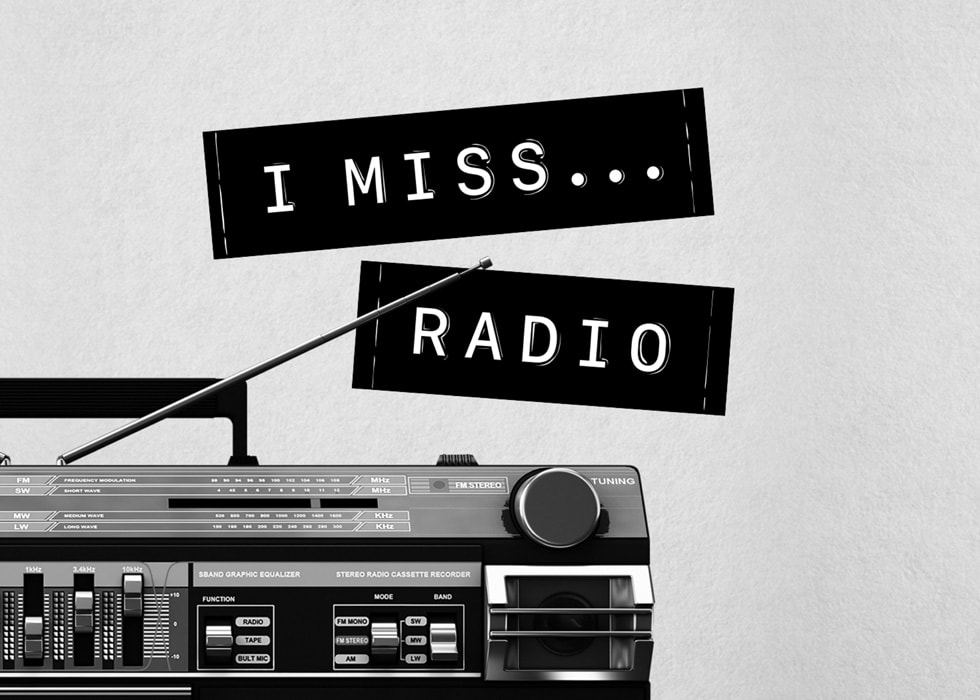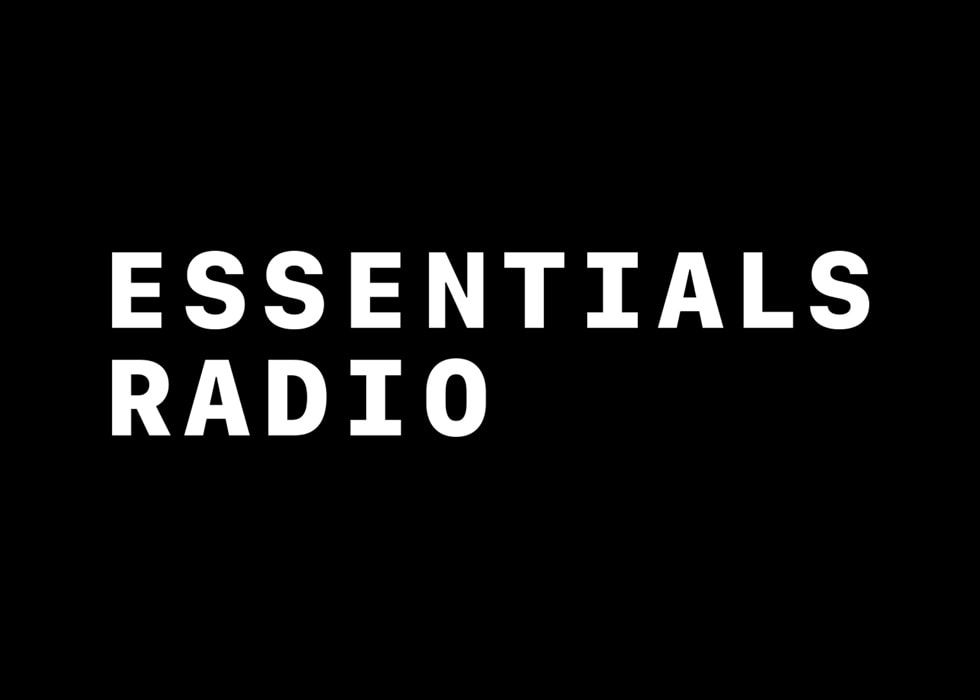 "At Apple Music, we're constantly seeking out new ways to celebrate the depth and breadth of hip-hop and R&B from around the world," said Darden, Apple Music's global editorial head of hip-hop and R&B and host of
The Ebro Show
. "That starts with being a fan. Our aim is to provoke discussion and highlight artists that are making noise, to nurture the culture that raised us these past five decades, preserve the contributions of the OGs, and help spotlight the next generation."
Apple News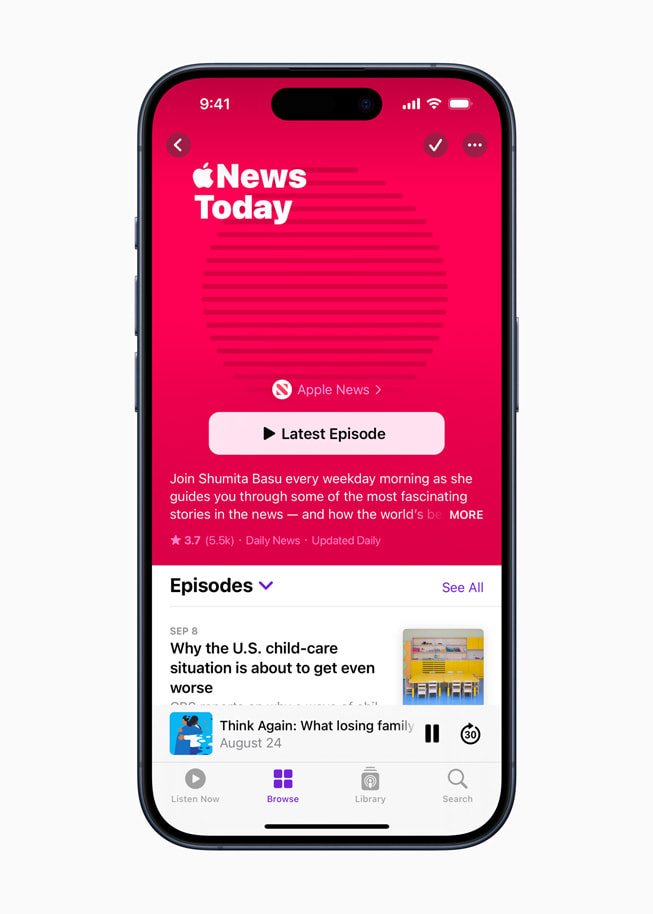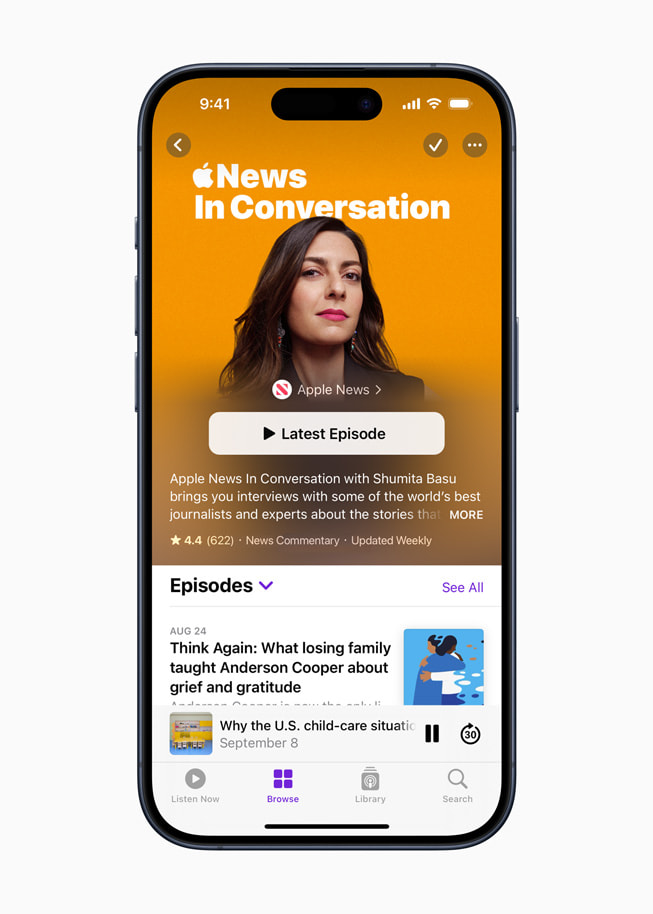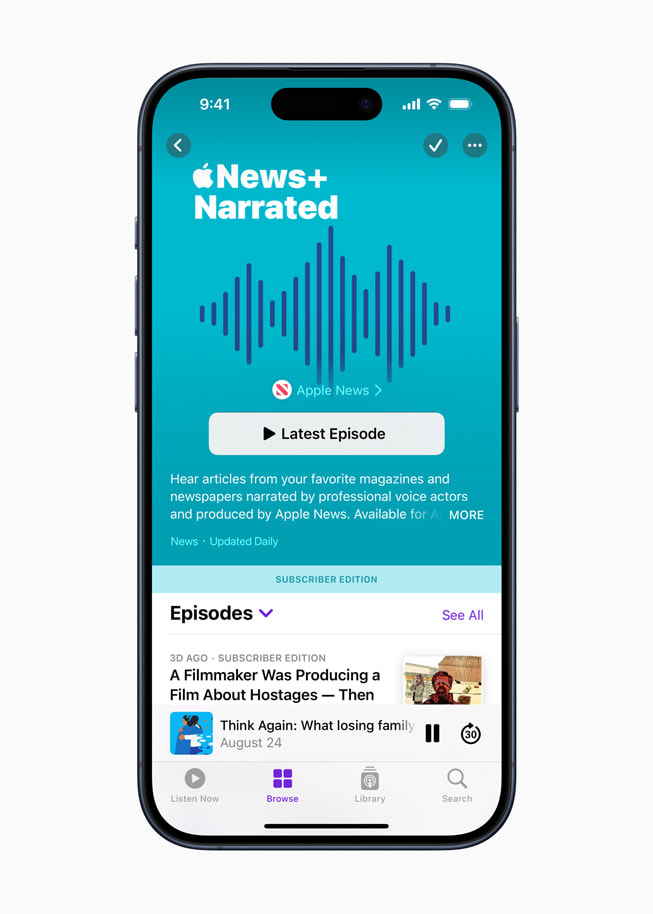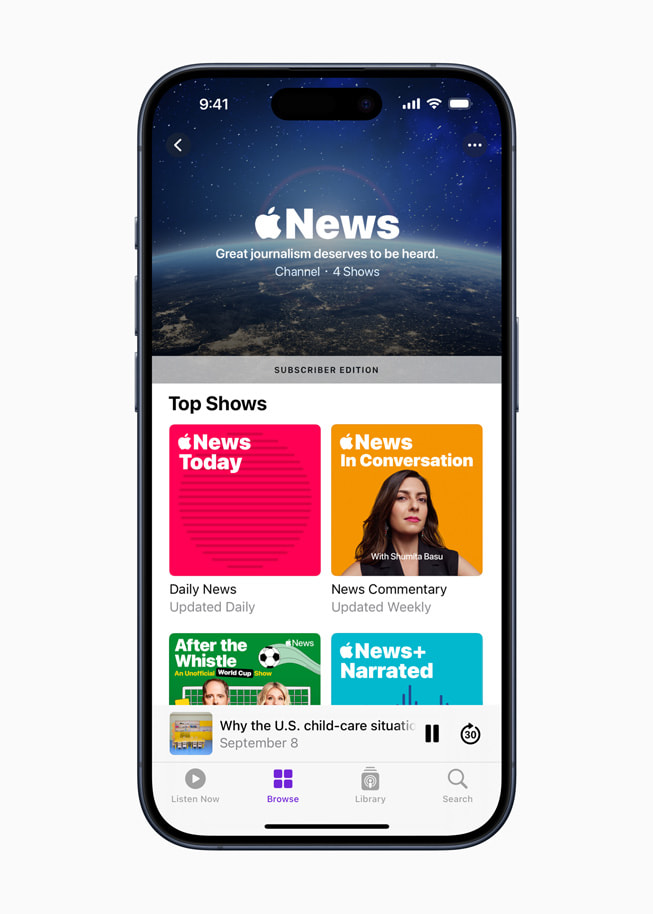 Availability
Apple Podcasts is available for free in over 170 countries and regions.
The ability to connect eligible subscriptions with Apple Podcasts requires iOS 17, iPadOS 17, or — available beginning today — macOS Sonoma.
Subscribers to Apple Music, Apple News+, and other participating apps can connect their subscriptions with Apple Podcasts to access new shows and other premium audio benefits. Feature availability varies by app and region.
Apple Music is available ad-free in over 167 countries and regions. A one-month free trial is available for new subscribers. The plan automatically renews at a user's region's price per month until canceled.
Apple News+ is available in the U.S., the U.K., Canada, and Australia. A one-month free trial is available for new subscribers. The plan automatically renews at a user's region's price per month until canceled.
Developers of apps with premium audio content can learn more and submit a request to make their apps eligible to be connected to Apple Podcasts at podcasters.apple.com.
For recommendations on what to listen to next, follow @ApplePodcasts on TikTok.