PRESS RELEASE
October 30, 2023
Apple unveils M3, M3 Pro, and M3 Max, the most advanced chips for a personal computer
The industry's first 3-nanometer chips for a personal computer debut a next-generation GPU architecture and deliver dramatic performance improvements, a faster CPU and Neural Engine, and support for more unified memory
CUPERTINO, CALIFORNIA
 Apple today announced M3, M3 Pro, and M3 Max, three chips featuring groundbreaking technologies that deliver dramatically increased performance and unleash new capabilities for Mac. These are the first personal computer chips built using the industry-leading 3-nanometer process technology, allowing more transistors to be packed into a smaller space and improving speed and efficiency. Together, M3, M3 Pro, and M3 Max show how far Apple silicon for the Mac has come since the debut of the M1 family of chips. 
The M3 family of chips features a next-generation GPU that represents the biggest leap forward in graphics architecture ever for Apple silicon. The GPU is faster and more efficient, and introduces a new technology called Dynamic Caching, while bringing new rendering features like hardware-accelerated ray tracing and mesh shading to Mac for the first time. Rendering speeds are now up to 2.5x faster than on the M1 family of chips.
1
The CPU performance cores and efficiency cores are 30 percent and 50 percent faster than those in M1, respectively, and the Neural Engine is 60 percent faster than the Neural Engine in the M1 family of chips. And, a new media engine now includes support for AV1 decode, providing more efficient and high-quality video experiences from streaming services. The M3 family of chips continues the tremendous pace of innovation in Apple silicon, and brings massive enhancements and new features to the new
MacBook Pro
and
iMac
.
"Apple silicon has completely redefined the Mac experience. Every aspect of its architecture is designed for performance and power efficiency," said Johny Srouji, Apple's senior vice president of Hardware Technologies. "With 3-nanometer technology, a next-generation GPU architecture, a higher-performance CPU, faster Neural Engine, and support for even more unified memory, M3, M3 Pro, and M3 Max are the most advanced chips ever built for a personal computer."
All-New GPU Features Dynamic Caching, Mesh Shading, and Hardware-Accelerated Ray Tracing
The next-generation GPU inside the M3 family of chips represents the largest leap forward in graphics architecture for Apple silicon. It features Dynamic Caching that, unlike traditional GPUs, allocates the use of local memory in hardware in real time. With Dynamic Caching, only the exact amount of memory needed is used for each task. This is an industry first, transparent to developers, and the cornerstone of the new GPU architecture. It dramatically increases the average utilization of the GPU, which significantly increases performance for the most demanding pro apps and games.
With the M3 family of chips, hardware-accelerated ray tracing comes to the Mac for the first time. Ray tracing models the properties of light as it interacts with a scene, allowing apps to create extremely realistic and physically accurate images. This, along with the new graphics architecture, allows pro apps to deliver up to 2.5x the speed of the M1 family of chips. Game developers can use ray tracing for more accurate shadows and reflections, creating deeply immersive environments. Additionally, the new GPU brings hardware-accelerated mesh shading to the Mac, delivering greater capability and efficiency to geometry processing, and enabling more visually complex scenes in games and graphics-intensive apps. This breakthrough GPU architecture enables all of these enhancements and features while maintaining Apple silicon's legendary power efficiency. In fact, the M3 GPU is able to deliver the same performance as M1 using nearly half the power, and up to 65 percent more performance at its peak.
A Faster and More Efficient CPU
The next-generation CPU in M3, M3 Pro, and M3 Max features architectural improvements to the performance and efficiency cores. The performance cores are up to 30 percent faster than those in the M1 family, so tasks like compiling and testing millions of lines of code in Xcode are even faster, and musicians can use hundreds of audio tracks, plug-ins, and virtual instruments in Logic Pro. The efficiency cores are up to 50 percent faster than the efficiency cores in M1, so everyday tasks are faster than ever, while allowing the system to maximize battery life. Together, these cores create a CPU that delivers the same multithreaded performance as M1 using as little as half the power, and up to 35 percent more performance at peak power.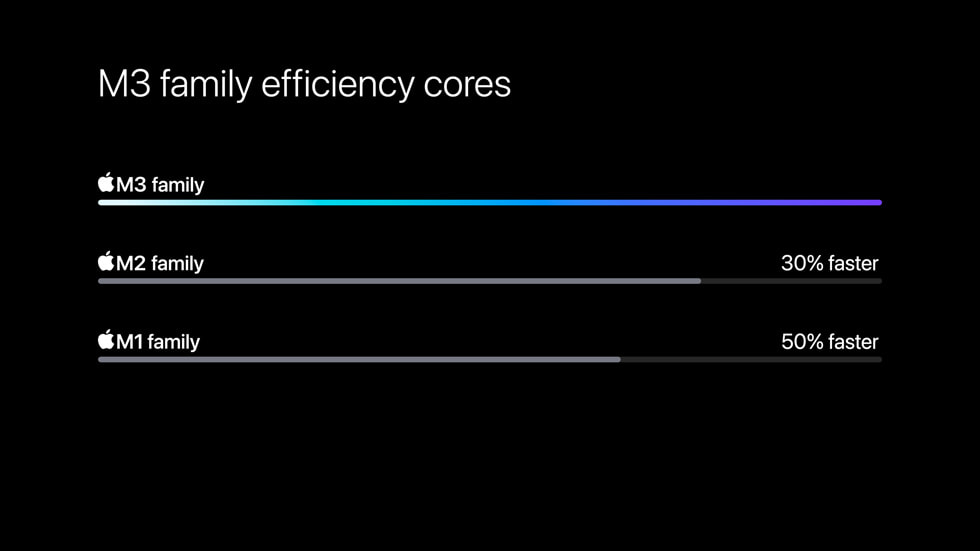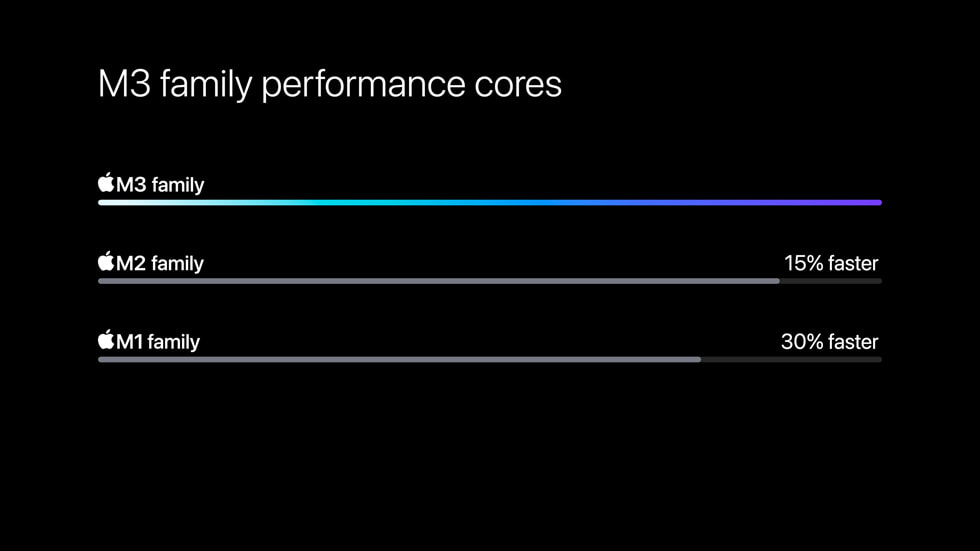 Unrivaled Unified Memory Architecture, up to 128GB
Each chip in the M3 family features a unified memory architecture, a hallmark of Apple silicon. This delivers high bandwidth, low latency, and unmatched power efficiency. Having a single pool of memory within a custom package means all of the technologies in the chip can access the same data without copying it between multiple pools of memory, further improving performance and efficiency, and reducing the amount of memory a system requires for the majority of tasks. Additionally, support for up to 128GB of memory unlocks workflows previously not possible on a laptop, such as AI developers working with even larger transformer models with billions of parameters.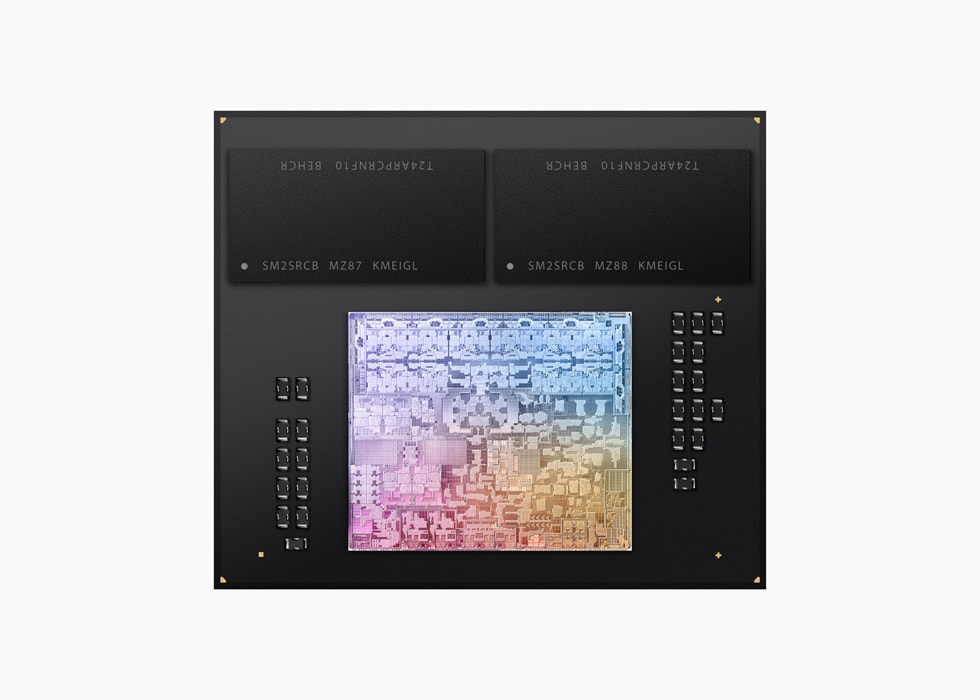 Custom Engines for AI and Video
M3, M3 Pro, and M3 Max also have an enhanced Neural Engine to accelerate powerful machine learning (ML) models. The Neural Engine is up to 60 percent faster than in the M1 family of chips, making AI/ML workflows even faster while keeping data on device to preserve privacy. Powerful AI image processing tools, like noise reduction and super resolution in Topaz, get even faster. Scene edit detection in Adobe Premiere and Smart Conform in Final Cut Pro also see a boost in performance.
All three chips in the M3 family also have an advanced media engine, providing hardware acceleration to the most popular video codecs, including H.264, HEVC, ProRes, and ProRes RAW. And for the first time, the media engine supports AV1 decoding, enabling power-efficient playback of streaming services to further extend battery life.
M3: Phenomenal Performance for the Most Popular Systems
M3 features 25 billion transistors — 5 billion more than M2. It has a 10-core GPU featuring the next-generation architecture that is 65 percent faster than M1 for graphics performance. Games like Myst have incredibly realistic lighting, shadows, and reflections. M3 has an 8-core CPU, with four performance cores and four efficiency cores, that is up to 35 percent faster than M1 for CPU performance. And it supports up to 24GB of unified memory.
M3 Pro: For Users Who Need Even More Performance
M3 Pro consists of 37 billion transistors and an 18-core GPU, delivering extremely fast performance when working on more graphics-intensive tasks. The GPU is up to 40 percent faster than M1 Pro. Support for unified memory goes up to 36GB, enabling larger projects to be tackled on MacBook Pro when users are on the go. The 12-core CPU design has six performance cores and six efficiency cores, offering single-threaded performance that is up to 30 percent faster than M1 Pro. Actions like stitching together and manipulating enormous panoramic photos in Adobe Photoshop are faster than ever with M3 Pro on the new MacBook Pro.
M3 Max: A Tremendous Leap in Performance for the Most Demanding Pro Workloads
M3 Max pushes the transistor count up to 92 billion and takes pro performance to the next level. The 40-core GPU is up to 50 percent faster than M1 Max, and support for up to 128GB of unified memory allows AI developers to work with even larger transformer models with billions of parameters. The 16-core CPU features 12 performance cores and four efficiency cores, achieving astonishing performance that's up to 80 percent faster than M1 Max. And with two ProRes engines, M3 Max makes video post-production work on even the highest-resolution content fast and fluid, whether using DaVinci Resolve, Adobe Premiere Pro, or Final Cut Pro. M3 Max is designed for pros needing the highest performance available in a MacBook Pro with industry-leading battery life in a pro laptop.
Better for the Environment
The power-efficient performance of M3, M3 Pro, and M3 Max helps the new MacBook Pro and iMac meet Apple's high standards for energy efficiency, and helps the new MacBook Pro achieve the longest battery life ever in a Mac — up to 22 hours.2 This results in less time needing to be plugged in and less energy consumed over its lifetime.
Today, Apple is carbon neutral for global corporate operations, and by 2030, plans to have net-zero climate impact across the entire business, which includes the entire manufacturing supply chain and life cycle of every product. This means that every chip in every Mac, from design to manufacturing, will be carbon neutral.
Results are compared to the previous-generation 16-inch MacBook Pro with M1 Max, a 10-core CPU, a 32-core GPU, 64GB of RAM, and 8TB SSD.
Testing was conducted by Apple in September and October 2023 using preproduction 16-inch MacBook Pro systems with Apple M3 Pro, a 12-core CPU, an 18-core GPU, 36GB of RAM, and 512GB SSD. The wireless web test measures battery life by wirelessly browsing 25 popular websites with display brightness set to eight clicks from the bottom. The Apple TV app movie playback test measures battery life by playing back HD 1080p content with display brightness set to eight clicks from the bottom. Battery life varies by use and configuration. See apple.com/batteries for more information.