Apple supercharges Logic Pro with powerful tools for music creation on Mac and iPad
Features include a new Mastering Assistant, 32-bit recording, Sample Alchemy, and Beat Breaker on Mac; a Quick Sampler Recorder mode on iPad; and more
Today Apple updated Logic Pro with powerful new features available across Mac and iPad. With the new Mastering Assistant and its professional palette of intuitive sound-shaping tools, musicians can deliver a release-ready mix faster than ever. Logic Pro for Mac now gets incredible sample manipulation with Sample Alchemy, and the radical reshaping and reshuffling capabilities of Beat Breaker. Logic Pro for iPad offers even more powerful features, including Quick Sampler Recorder mode, which allows users to quickly capture "found sounds" using the built-in microphone in iPad and instantly create custom playable instruments. Producers and beat makers with their own collections of samples can quickly build kits or custom instruments using improved multitasking features such as Split View and Stage Manager. And users can work easily between Mac and iPad with project round-tripping, taking the music-making experience on the road or to the studio.
New Features Coming to Mac and iPad
Mastering Assistant offers creators a quick and easy way to add that final professional polish for a release-ready mix. Once a mix is complete, Mastering Assistant can instantly analyze the audio and make expert refinements to the sound, adjusting elements such as the dynamics, frequency balance, timbre, and loudness. Creators can also use Mastering Assistant's initial processing as a starting point and then fine-tune each setting with intuitive controls, allowing for a mix that sounds great both in the car and in the club.
Logic Pro now supports 32-bit float recording when used with compatible audio interfaces. This helps artists minimize the digital clipping that can occur when recording more dynamic instruments or performances. With 32-bit float, even recordings made at lower levels can be easily amplified without increasing the noise floor, providing studio-quality audio and flexibility in post-production.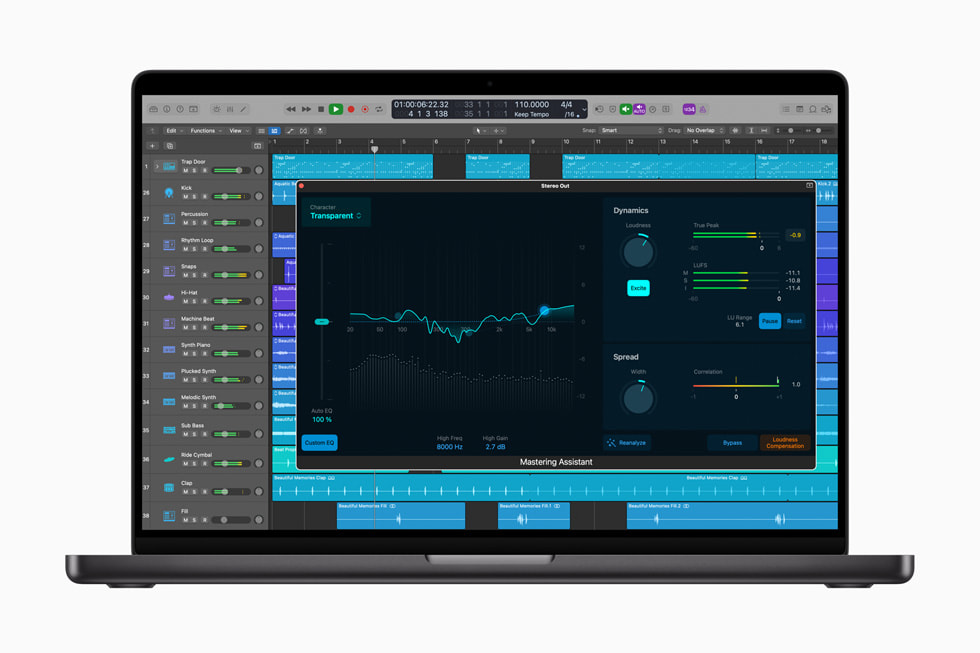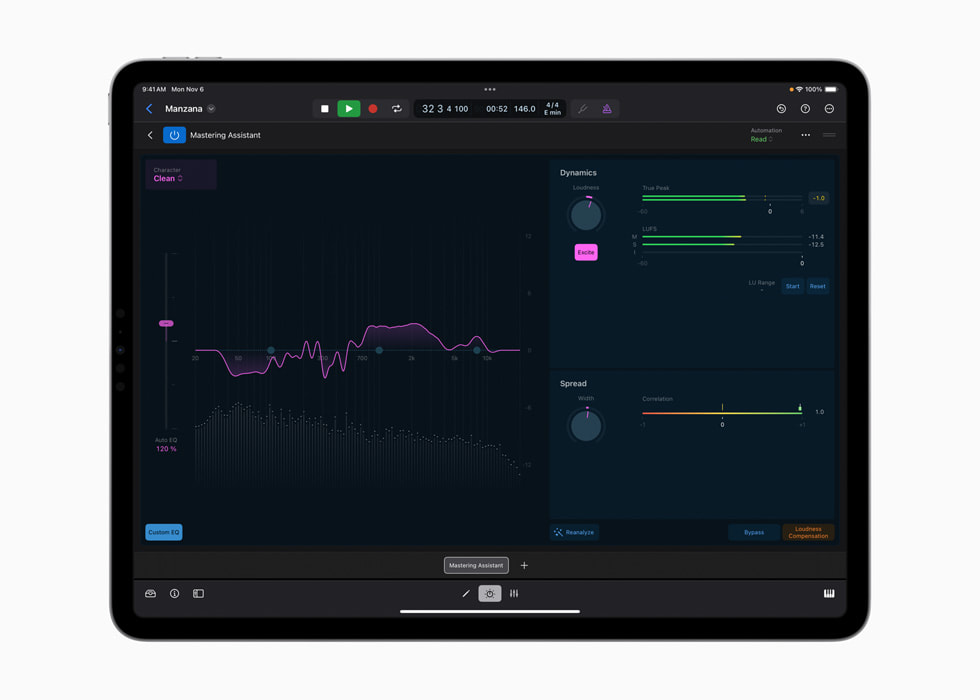 New in Logic Pro for Mac
Introduced on Logic Pro for iPad earlier this year, Sample Alchemy and Beat Breaker are now available in Logic Pro for Mac. Sample Alchemy allows users to transform a single audio sample into a playable instrument using a variety of techniques, including granular, additive, and spectral synthesis. Artists can now create a wide range of unique sound beds, pads, effects, and rhythms, pushing the boundaries of creativity.
With the Beat Breaker multieffect plug-in, creators can radically reshape and reshuffle audio in real time, slicing audio, rearranging it, and adding scratching effects. By altering the speed, direction, volume, and number of repeats for each slice, musicians can effortlessly define complex patterns that can be changed on the fly.
The Tools menu in the Tracks area and time-based editors now includes Slip and Rotate tools, enabling users to move content within audio and software instrument regions without altering the region boundaries.
Today's update to Logic Pro for Mac introduces two new sound packs: The Hybrid Textures sound pack includes a collection of 70 patches, as well as over 80 Apple Loops featuring Sample Alchemy, while the Vox Melodics sound pack contains a diverse collection of over 475 lyrical phrases, hooks, layered harmonies, FX, and one-shots. Users can download all of the app's free sound packs using the Sound Library.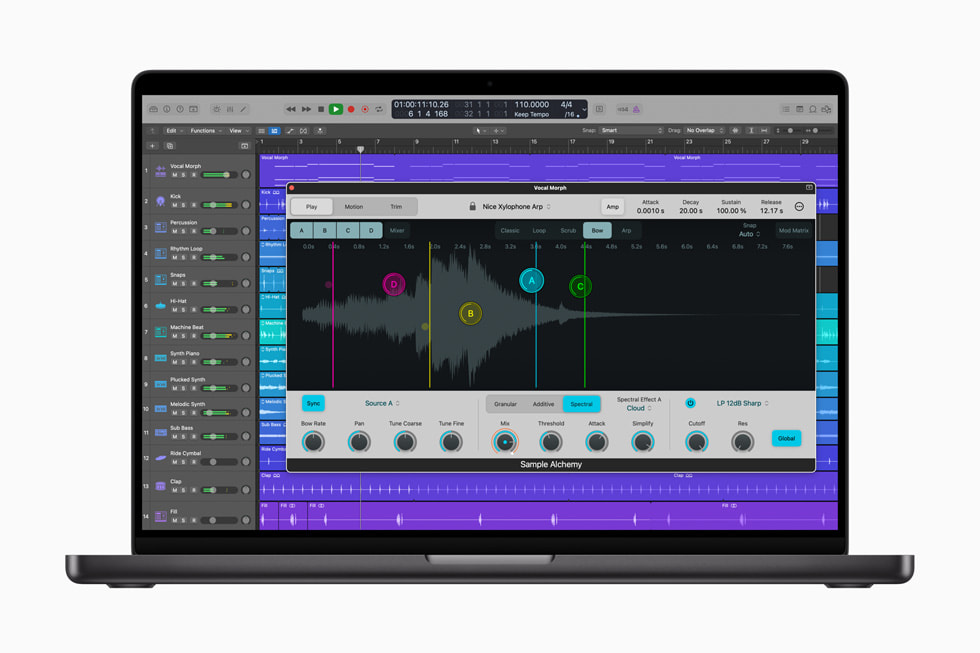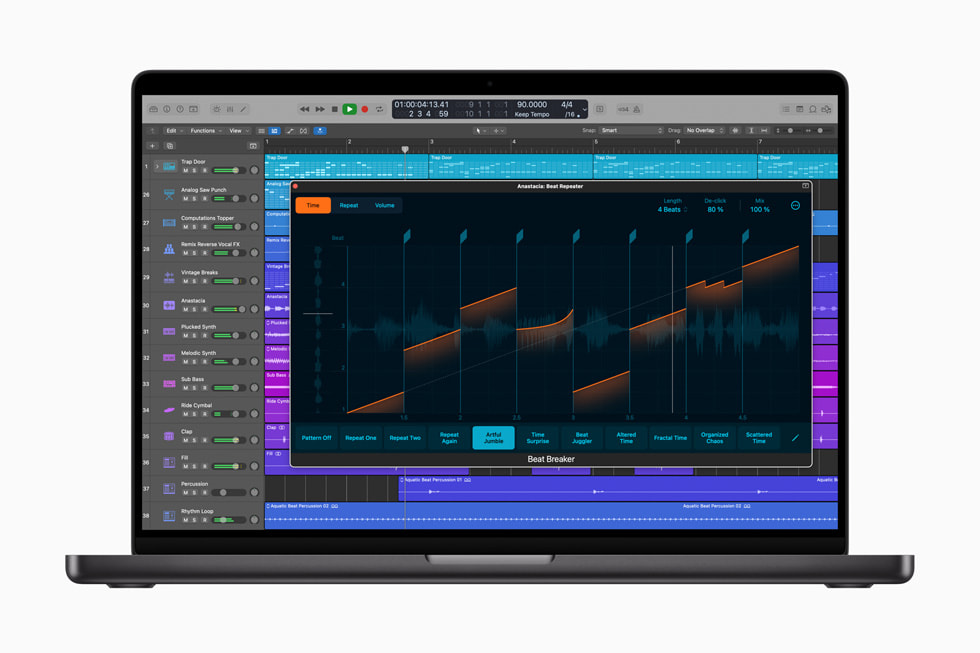 New in Logic Pro for iPad
The Quick Sampler plug-in allows users to quickly create sampler instruments from virtually any sound. With the new Recorder mode, users can create instruments and drum kits by directly recording audio with the built-in microphone or a connected audio input, allowing for instrument creation to happen just about anywhere.
Now creators can move seamlessly between Logic Pro and other apps like Voice Memos or the Files app using Split View and Stage Manager. Split View allows users to open two different apps — or two windows from the same app — by splitting the screen into resizable views, while Stage Manager allows users to resize windows, see multiple overlapping windows in a single view or tap to switch between apps, and more. 
Users can quickly find the perfect sound in the Browser by simply dragging up or down with a finger to preview multiple samples, loops, or instruments. Additionally, users can select and drag their own samples from the Files app to Logic Pro to easily build drum kits or add stems to a project.
Logic Pro adds to its popular in-app Lessons with additional instruction covering a broad range of topics, including Mastering Assistant, Sample Alchemy, Beat Breaker, beat making, automation, sound packs, and Play Surfaces. The Hybrid Textures sound packs also come to Logic Pro for iPad, offering creators new material to explore the power and depth of Sample Alchemy.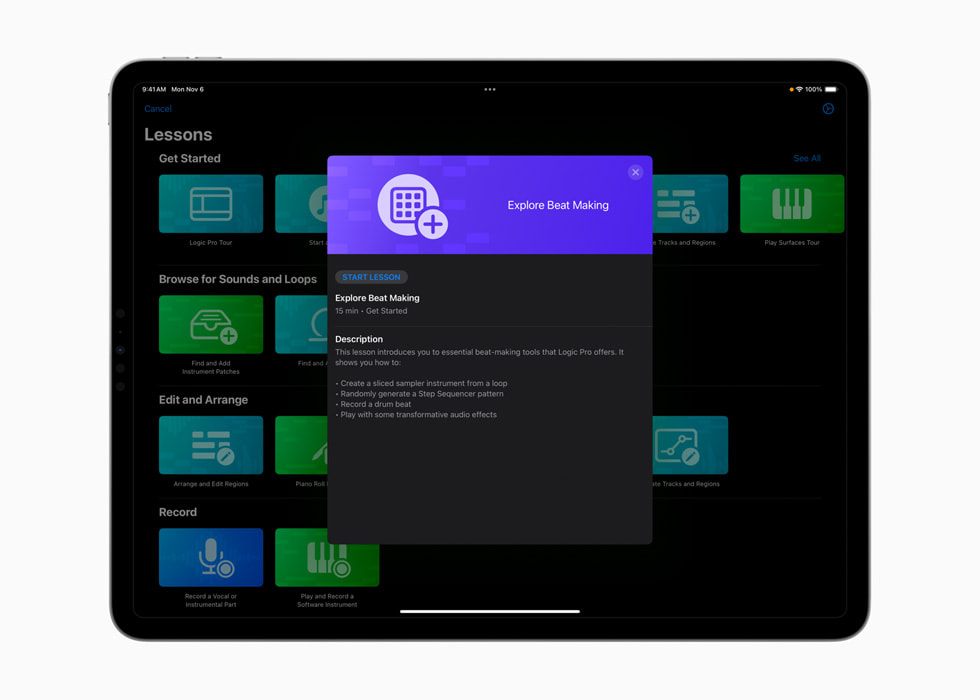 Pricing and Availability
Logic Pro 10.8 is available today as a free update for existing users and for $199.99 (U.S.) for new users on the Mac App Store. Logic Pro for Mac requires macOS Ventura 13.5 or later. For more information, visit apple.com/logic-pro.
Logic Pro for iPad 1.1 is available today as a free update for existing users, and available on the App Store for $4.99 (U.S.) per month or $49 (U.S.) per year, with a one-month free trial for new users. Logic Pro for iPad requires iPadOS 17 or later, and an iPad with Apple A12 Bionic chip or later. For more information, visit apple.com/logic-pro-for-ipad.